We can apply our tile cleaning method on all types of tile.
Tile is a popular material used in both residential and commercial settings. It can be placed on floors, particularly in kitchens, bathrooms, laundry rooms, and other spaces where moisture is present, because it's resistant to the damaging effects of water. Tile is also used to cover the walls of showers and bathtubs and can add visual interest and protection to the walls of kitchens.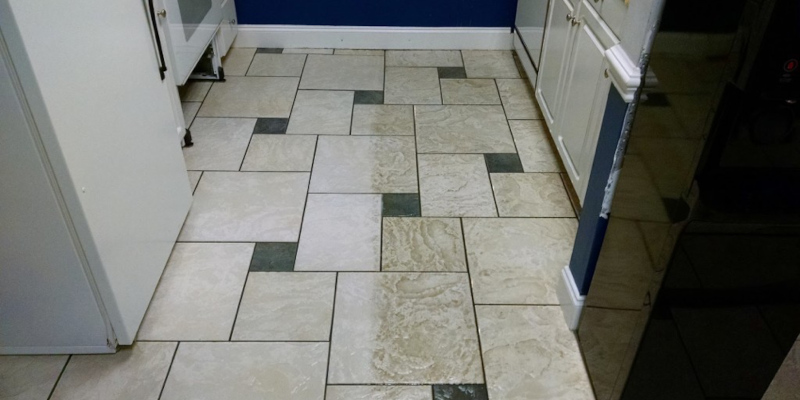 Despite its moisture resistance, tile can get stained and dirty through normal use. Instead of trying to clean the tile surfaces in your Salisbury, North Carolina home on your own, contact our team at Salisbury Rug & Carpet Cleaning to schedule a service.
Before we start a tile cleaning job, we'll perform a thorough inspection of the surface. This step in our process allows us to note any problem areas, including high-traffic sections of flooring that have accumulated more dirt and grime. After assessing your tile, we'll prepare the area by moving furniture and covering any surfaces that could sustain damage. Our technicians will then apply a pre-treatment and allow the cleaning solution to penetrate the tile and grout for five minutes per area. During this step, we'll use our specialized brushes and tools to scrub stains and remove grime.
The final step in our proven tile cleaning process involves a high-pressure hot water extraction and rinse. Using a high pressure volume and the hottest water possible delivers incredible results. We can apply our tile cleaning method on all types of tile, and we've been providing this and other floor cleaning services in the area since 2014. Contact us today to learn more and schedule your appointment.
---
At Salisbury Rug & Carpet Cleaning, we offer tile cleaning services for customers in Salisbury, Thomasville, Mocksville, Kannapolis, Concord, and Lexington, North Carolina.