You'll be amazed by the results of our professional grout cleaning service.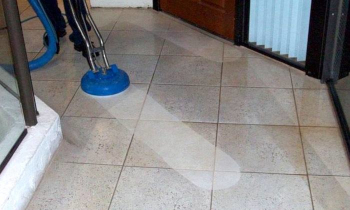 Many homes and businesses feature tile, a popular material used in flooring and wall covering applications. Between the tiles, you'll find grout, a material made from water, sand, and cement. Grout serves as the filler material that keeps the tiles in place and adds strength and rigidity to the installation. But over time, the visible grout lines can accumulate dirt and grime.
Since grout is often light in color, stains are particularly evident. Trying to clean this part of a tile floor or shower can be difficult on your own, as it often involves the use of an old toothbrush or small brush. And no matter how much time you spend scrubbing, your efforts may not yield the results you want.
Instead of trying to handle grout cleaning on your own, contact us at Salisbury Rug & Carpet Cleaning to schedule a professional service. We're experts in tile and grout cleaning, and we have the tools and equipment needed to do the job right. We follow a five-step process that begins with a pre-inspection.
Our technicians will conduct a walk-through to note problem areas and make a plan. After this, we'll prepare the area to protect furnishings and other types of flooring. The third step in our process is known as the strategic pre-treatment spread and scrub. This involves treating problem areas with specialized tools, including soft- and hard-bristled brushes and edging tools.
After allowing the cleaning solution to sit for five minutes per area, we'll begin our high-pressure hot water extraction and rinse all treated areas. You'll be amazed by the results of our professional grout cleaning service. We proudly serve those located throughout the Salisbury, North Carolina area.
---
At Salisbury Rug & Carpet Cleaning, we offer grout cleaning services for customers in Salisbury, Thomasville, Mocksville, Kannapolis, Concord, and Lexington, North Carolina.