Area rugs are a great addition to just about any space. They are a great way to add more visual interest, to provide more cushioning, and to keep your feet warmer, and they can even help improve the acoustics in your space. However, if you want to keep your area rugs in great condition, you will need to clean them regularly. Our team at Salisbury Rug & Carpet Cleaning has extensive experience in area rug cleaning, and in this article, we will provide an overview of how to get the best results from your cleaning efforts.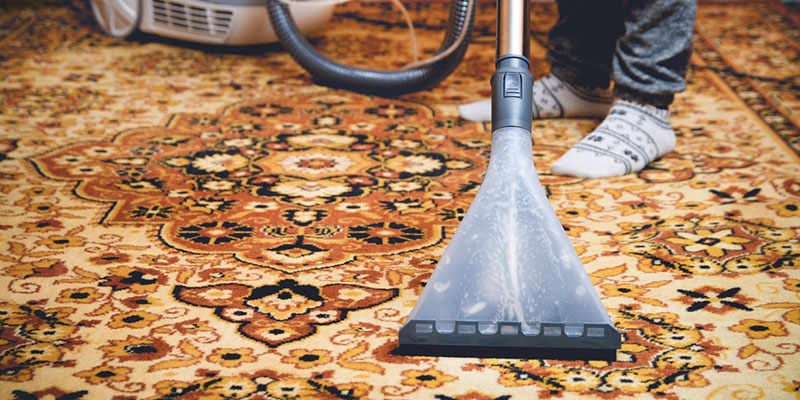 Vacuum – The first step in area rug cleaning is to vacuum the rug. Depending upon foot traffic, vacuuming your area rugs once per week has been proven to aid in helping keep them clean. This will remove the dirt and grime, which in turn will help keep the rug's fibers in great condition. You will need to vacuum frequently, at least once or twice a week, for best results.
Brush – If you have pets, another step you'll need to include in your area rug cleaning process is brushing shed pet hair out of the fibers. Use a brush with stiff bristles, and brush in the same direction as the nap of the carpet. However, you can also purchase a rubber-bristled brush from Amazon or another pet store retailer that is specifically for upholstery and/or pet hair.
Assess Make and Material – Before you go further, you will need to determine what type of fiber your rug is made of (such as wool, polyester, etc.), and how it is made (braided or woven vs. knotted). Once you've figured it out, proceed as follows:

Woven or Braided Rugs – For small woven rugs, check the care label to see if the rug is washable—if so, you can run it through your washing machine on a cool, gentle cycle, then tumble dry on low. For larger rugs, the proper area rug cleaning method is to place the rug on a vinyl or concrete floor with a blanket underneath, then sponge carpet-cleaning foam on top. Rinse or vacuum the rug to remove the product, and dry it out thoroughly before putting it back in place.
Knotted Rugs – For new knotted rugs, simply vacuum as normal. When it comes to antique rugs, the recommended area rug cleaning procedure is to place a nylon screen over the carpet, or tie nylon mesh over the vacuum attachment, and vacuum through that—this method removes dirt and grime without pulling out the carpet fibers themselves.