We can thoroughly clean the baseboards throughout your entire house.
Let's face it—we all know clean carpets, tile, and floors make our homes look and feel cleaner. After we've have spent time cleaning our bathrooms and vacuuming regularly, it's those deep cleaning tasks that are tough to find time to check off the cleaning list. Chances are, all we really had time for was a good wipe-down of those areas, much less scrubbing. Our baseboards can take a beating, especially if we've not been able to address them in a while. We want to get down there and clean them, and we know we have to eventually, but dusting and cleaning baseboards is one those home maintenance tasks we all love to hate, right?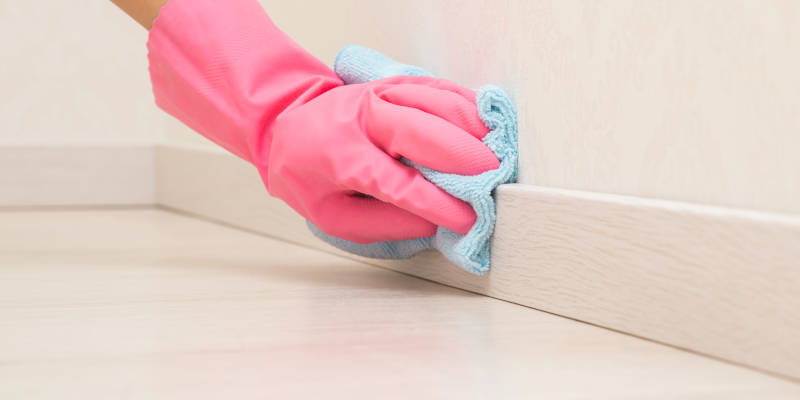 Baseboard cleaning is an intense task, and we all shove it down to the bottom of our to-do list. If you're tired of looking at baseboards covered in pet hair, dust, and grime, it's time to call us at Salisbury Rug & Carpet Cleaning. We provide professional baseboard cleaning services in Salisbury, North Carolina and surrounding areas. Whether we're there to clean your carpets, rugs, tile/grout, upholstery or even cleaning/conditioning your leather goods, baseboard cleaning can be added to that list as well, or we can come just to clean your baseboards.
When we provide baseboard cleaning services, we do more than simply wipe off the top of your baseboards. We'll take the time to scrub off scuff marks and clean the entire baseboard from top to bottom, addressing spots, stains, marks, and buildup; we'll even clean the quarter round if you have it.
Our goal is to leave you with a home with perfectly clean baseboards, so you don't have to spend hours on your hands and knees taking care of this tedious cleaning task. While we're there, don't forget to have us clean your carpets, rugs, tile/grout, or upholstery!
Our goal is to help you keep your home perfectly clean, and our baseboard cleaning services can help with that. Contact us today to learn more about how we handle baseboard cleaning and to make your next appointment with our team.
---
At Salisbury Rug & Carpet Cleaning, we offer baseboard cleaning services for customers in Salisbury, Thomasville, Mocksville, Kannapolis, Concord, and Lexington, North Carolina.