There is more to tile & grout cleaning than meets the eye.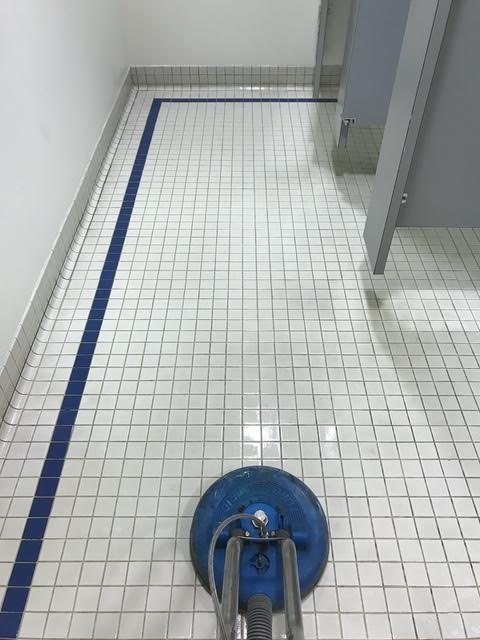 If you are thinking your tile floor will never look like it did when it was first installed, we have good news for you. At Salisbury Rug & Carpet Cleaning, we have developed an exceptional five-step tile & grout cleaning process that will cost significantly less than replacing your tile and grout.
Our goal is to restore your tile's beauty and help you keep it looking good going forward. Here is our tile & grout cleaning process for our customers in the Concord, North Carolina area:
Step 1 – Pre-Inspection: A walk-through is conducted to note all problem areas with tile and/or grout.
Step 2 – Area Preparation: When applicable, area preparation may include moving furniture and making sure all transitions to carpet and/or hardwood floors are protected.
Step 3 – Strategic pre-treatment spread & scrub: We use "strategic" pre-treatment techniques with our tile/grout cleaning, such as our soft-bristled brush to spread the pre-treatment chemical in small areas at a time. We then use our hard-bristled brush to scrub the tile and grout and use our edging tool that removes dirt and grime from corners and transitions.
Step 4 – Strategic pre-treatment dwell time: We then allow the pre-treatment to dwell for a period of 5 minutes for each area. This allows the chemical to work even further to break down stuck-on dirt and grime.
Step 5 – High pressure, hot water extraction and rinse: 1000psi combined with the hottest water available makes for remarkable results when we extract and rinse. Drying time for tile is about 15 minutes.
Our family-owned and operated tile & grout cleaning company has been hard at work since 2014, demonstrating that we go above and beyond to deliver exceptional results. We can also clean your carpet, area rugs, and upholstery, so you are left with the clean and healthy home your family deserves. Reach out today to get an estimate and answers to any questions you might have about tile & grout cleaning.
---
At Salisbury Rug & Carpet Cleaning, we offer tile & grout cleaning services for customers in Salisbury, Thomasville, Mocksville, Kannapolis, Concord, and Lexington, North Carolina.
Similar Services We Offer: